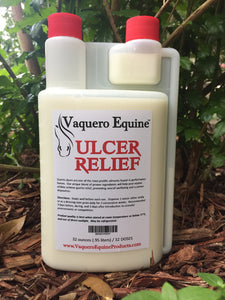 Gastric ulcers are one of the most prolific ailments found in performance horses.  Our unique blend of proven ingredients will help your equine athlete achieve gastric relief, promoting overall well-being and a calmer disposition.
Directions:  Shake well before each use.  Dispense 1 ounce (30 ml) either orally or as a dressing over grain daily for 2 consecutive weeks.  Recommended 3 days before, during, and 3 days after introduction to stressful environments or competition. 
May be given daily for ulcer prone or nervous horses.
For tougher cases, we do recommend 2 ounces (60 ml) per day for the first week, then 1 ounce (30 ml) per day thereafter.
Quality is our main ingredient!  Sourced from the best suppliers in the industry and hand blended in small batches for consistent, quality products. Product quality is best when stored at room temperature or below 77°F, and out of direct sunlight.  May be refrigerated.
Ingredients: Proprietary Blend of Magnesium Oxide, Aloe Vera (Aloe Barbadensis), Omeprazole, and Vaquero Ulcer Relief™ Proprietary Blend of Micronutrients and Amino Acids, All Natural Emulsifier and Preservatives