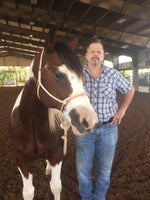 What Is Integrated Therapy?
We believe every horse is unique, and so is their treatment plan.  Vaquero Equine Therapy has had great success using a combination of therapeutic approaches to help your athlete perform and feel their best by restoring balance to their overall body.
The benefits of therapy are:
Enhance muscle tone and range of motion.
Reduce inflammation and swelling in the joints, thereby alleviating pain.
Promote the healing process by increasing the flow of nutrients to the muscles, and aiding in the excretion of excessive fluids and toxins.
Create a positive effect on the contractual and release process of the muscles, releasing tension and relaxing muscles.
Stimulate circulation by defrosting frozen muscles, subsequently releasing endorphins - the body's natural pain killers.
Help to maintain the whole body in better physical condition.
MagnaWave MAXX
We incorporated the MagnaWave MAXX into our program in 2020. It has been a game changer for us!
For those of you not familiar with the technology, PEMF (Pulsed Electromagnetic Field) Therapy promotes cellular exercise, which increases circulation, blood oxygenation, and helps the body recover naturally, while reducing inflammation and relieving pain. MagnaWave can aid your Equine Partner by helping Tendon and Ligament Injuries, Sore Backs, Sore Stifles, Chronic Hock Soreness, Sore Shoulders, Non-Union Fractures, Colic, Laminitis, Stone Bruises, Non-Healing Wounds, and aid in overall wellness and relaxation.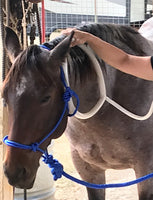 MR4 ActiVet PRO LaserShower Cold Laser Therapy
In conjunction with hands-on therapy, we also utilize the MR4 ActiVet PRO LaserShower cold laser therapy, one of the most advanced therapeutic devices available today.
The benefits:
Relieves pain and inflammation.
Promotes increased circulation to targeted area, allowing increased blood flow and oxygenation to promote healing.
Excellent for targeting joints like the poll, stifles, hocks, and fetlocks.
Aids in the release of deep muscle spasms.
Increases tensile strength of tissues, accelerating rehabilitation from sports injury.
Features blue light therapy, which significantly influences wound healing and treats inflammatory skin conditions.
Jett Wynn - CESMT
Husband, father, cowboy, 12th generation San Antonian and Certified Equine Sports Massage Therapist.  For as long as I can remember, I have had a great love and respect for horses.  I rode my first horse at the ripe old age of five, working cattle with my great-grandfather and am still riding today.  What I have learned over the past 50 years is that the horse's health and happiness should always come first, from the ground up!
I have stayed close to my equine friends during my life, working at race tracks in Texas and Louisiana in positions from Assistant Trainer to Head Outrider, as well as being a PRCA (Professional Rodeo Cowboys Association) Gold Card member, competing since 1990.  I have also been a member of the IPRA (International Professional Rodeo Association), CPRA (Cowboy's Professional Rodeo Association), WSTR (World Series of Team Roping) and USTRC (United States Team Roping Championships).  I understand what these equine athletes, and their human partners, go through.  I've won some, I've lost plenty, but I always had a great equine partner beside me.  I understood a long time ago that my equine athlete's health was as, or more, important than my own to succeed.
After working on my own horses for more than 20 years, it would be my honor to now help your equine athlete, or companion, stay sound and ready to hit the trails with you... wherever they may lead.  To me, it is all about the horse being healthy, happy and as pain free as possible.  We want to be your partner in equine health!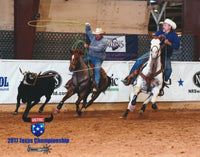 Contact us today for an appointment!
Jett Wynn, CESMT - (512) 757-3273
Jo Wynn, CESMT - (830) 931-4808
Proudly serving Central and South Texas
Located in Stockdale, Texas